Frequently Asked Questions about Dental Implant Surgery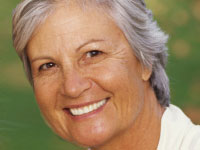 Q. What is a dental implant?
A. A dental implant is a permanent artificial tooth replacement.
Q. Who should you see about getting dental implant surgery?
A. When getting a dental implant, you should select a dentist or dental team with in-depth knowledge and prior experience with all aspects of the treatment. It is important to know that dental implant treatment consists of two components: a surgical phase and a restorative phase.
Traditionally, a dental surgeon, like an oral surgeon or a periodontist, performs the dental implant surgery. A general dentist, or prosthodontist and laboratory technician perform the restorative component. However, as implant dentistry has become more sophisticated, sometimes a dentist who specializes in restorative dentistry conducts the entire procedure.
Q. How long has dental implant technology been available and what is the success rate?
A. The technology has been around for decades. In fact, some patients have had dental implants for more than 40 years. Hundreds of thousands of dental implants have been inserted with more than a 90% success rate. All other metal implants in the body (including hips and knees) are the result of the dental implant technology.
Q. Are there different types of dental implants?
A. Yes, several types are available. The American Dental Association considers both the endosteal and the subperiosteal implants to be acceptable. An important factor for selection is to determine whether your jawbone can adequately support the implant. Most dental implants placed today are endosteal root form fixtures (similar to a man-made tooth root).
Q. Is dental implant surgery available for a single missing tooth?
A. In the case of a single missing tooth, dental implant surgery is used to place a dental implant in the jawbone area of the missing tooth. The dental implant will serve as a replacement for a tooth root and an individual crown. The total apparatus is referred to as a single-tooth implant crown. Once in place, the dental implant crown will look, feel, and function like a natural tooth. They are cleaned and flossed just like natural teeth, and best of all, they do not require any special tools to clean around them like bridges. Although a dental implant will not decay, they require impeccable oral hygiene.
What's the Difference Between a Dental Bridge and a Dental Implant?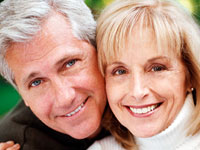 What is used to get across a gap -- a bridge of course! A dental bridge spans the gap between one or more missing teeth giving you a better smile.
Your teeth not only help you chew and speak correctly, but also contribute substantially to your smile and overall appearance (your teeth give form to your face and without them, your facial features can be significantly affected.) If lost teeth are not restored, other teeth often shift, causing crooked teeth, leading to cavities and gum disease. Dental bridges restore potentially compromised oral health to full function.
What Is a Dental Bridge?
A bridge is a special dental appliance used to restore missing teeth. There are several types of bridges used to span the space. The three most common types include:
Fixed Dental Bridge - This type of bridge is cemented next to the teeth adjacent to the gap, called the "abutment" teeth. A replacement tooth, called a pontic, is attached to crowns that provide added support and cover the abutment teeth. Fixed bridges can only be removed by the dentist.
Removable Partial Dentures - When the span is large, your dentist may suggest this type of bridge. A removable partial denture fastens to natural teeth with clasps or attachments. This type of appliance can be removed for cleaning and is less expensive than the fixed type. However, it's usually not as durable as the fixed bridge.
Dental Implant Supported Bridges - When implants have been placed in spaces that have no teeth, they serve as "abutments" or anchors for a bridge.
What Materials Are Used in a Dental Bridge?
An assortment of materials are available depending on the function and appearance. Porcelain, tooth-colored acrylics, gold alloys, and alloys made from non-precious metals all provide important restorative qualities along with making your smile the way you want it.
What's Involved in the Procedure?
Normally at least two visits are needed for preparing the teeth, custom-designing the bridge, and making adjustments for proper fit and comfort.
How Do I Care for My New Dental Bridge?
With bridges, extra care must be given to your gums and teeth. Bridges add more stress to existing teeth and must be supported by healthy gums. Otherwise, these key teeth are susceptible to decay and affect the bridges.
Brushing twice a day and flossing daily along with regular dental visits are essential to good oral hygiene. Flossing is often easier by using floss threaders that help to remove cavity-causing bacteria between the dental bridge and adjacent teeth.
Because bridges are intricate and sometimes difficult to clean, your dentist might suggest a special instrument that helps in caring for your teeth. Similar in design to professional dental cleaning instruments, it's made of tiny filaments that rotate to "swoosh" into the crevices between the teeth and below the gum line. Ask your dentist about this special cleaning device.
With good oral hygiene, a fixed dental bridge can last eight to ten years or more and provide years of service enhancing your smile and appearance and your oral health.
By Danine M. Fresch, DDS