What To Expect in Dental Implant Cost from Your Implant Dentist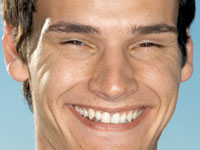 If dental implants are what you need to best replace your missing teeth, you should select a implant dentist with in-depth knowledge of and prior experience with all aspects of the treatment. It is important to know that dental implant treatment consists of two components: a surgical phase and a restorative phase.
Traditionally, a dental surgeon, like an oral surgeon or a periodontist, performs the surgical component. A general dentist, or prosthodontist and laboratory technician, performs the restorative component.
As implant dentistry has become more sophisticated, the restorative dentist, at times, also has become the one that places the dental implant. However, each clinician involved in implant treatment must be aware that the type of final restoration a patient wants dictates the position, size, and number of teeth implants within the jaws.
What Types of Dental Implant Restorations Are There?
For each unique missing tooth situation, there is an equally unique way to use implants to replace teeth. However, all of the treatments can be placed in two categories: removable or fixed prostheses.
Implant dentist use removable implant dentures when a patient is missing all of his or her teeth. Fewer dental implants are necessary when used in conjunction with a removable denture.
Conversely, more implants are necessary when used in conjunction with a fixed bridge. Fixed bridges feel most like your natural teeth and are usually more desirable than removable dentures.
Mastering new surgical and restorative techniques as they are developed is the mark of an excellent implant dentist as well as overall dental implant dentistry. A implant dentist's meticulous attention to fine detail conveys a feeling of confidence to the patient. The implant dentist should be committed to restoring full function to the missing teeth as well as recreating natural-looking teeth. These are the qualities a patient should look for in a implant dentist to place and restore their implants.
By Laura Minsk, DMD
Your Tooth Implant Options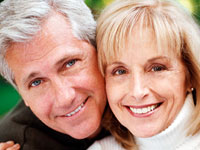 Dentistry has come a long way in the past 10 years - new cosmetic dentistry procedures, stronger dental materials, improved techniques all the way around.
Some of us, though, have not had the opportunity to take advantage of these breakthroughs until later in life. In fact, more than 42% of people over 65 have experienced significant tooth loss and must resort to dentures. Now there are options: dental implants.
Tooth replacement systems differ, but they are all intended to provide a better alternative to removable dentures. As any denture wearer will tell you, there's nothing more irritating than a slippery lower denture and the uncertainty it brings. An ill-fitting denture may cause accelerated bone loss, too, and aggravate oral decline. Teeth implants can bring back bite strength, stability and, most important, self-confidence.
The dental implant procedure is a three-stage process. First, an implant device is inserted into the upper or lower jawbone. Usually only local anesthesia is required, though a hospital stay may be advised. You will be given a temporary appliance so you can go on your way until the second stage.
After a healing period of some months, implant and bone have grown together. Posts are then attached to each tooth implant - these protrude through gum tissue. After a few weeks a fixed bridge or "overdenture," will be inserted. Then teeth will be attached to the posts. In some cases, an existing denture can be modified to secure over tooth implants comfortably.
The dental implant procedure takes some time and some money. You need sufficient viable bone in the jaw to support teeth implants, and a willingness to take good care of yourself during treatment. Finally, your expectations must be reasonable. Dental implants won't behave like natural teeth, but do promise better eating and speaking abilities and vitality.
Implant dentistry has been around for 25 years and the success stories are very impressive. In these, the best years of life, you owe yourself the gift of self-esteem. See your tooth implant dentist today!