Frequently Asked Questions about Dental Implant Surgery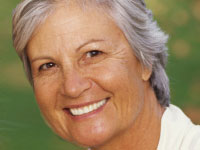 Q. What is a dental implant?
A. A dental implant is a permanent artificial tooth replacement.
Q. Who should you see about getting dental implant surgery?
A. When getting a dental implant, you should select a dentist or dental team with in-depth knowledge and prior experience with all aspects of the treatment. It is important to know that dental implant treatment consists of two components: a surgical phase and a restorative phase.
Traditionally, a dental surgeon, like an oral surgeon or a periodontist, performs the dental implant surgery. A general dentist, or prosthodontist and laboratory technician perform the restorative component. However, as implant dentistry has become more sophisticated, sometimes a dentist who specializes in restorative dentistry conducts the entire procedure.
Q. How long has dental implant technology been available and what is the success rate?
A. The technology has been around for decades. In fact, some patients have had dental implants for more than 40 years. Hundreds of thousands of dental implants have been inserted with more than a 90% success rate. All other metal implants in the body (including hips and knees) are the result of the dental implant technology.
Q. Are there different types of dental implants?
A. Yes, several types are available. The American Dental Association considers both the endosteal and the subperiosteal implants to be acceptable. An important factor for selection is to determine whether your jawbone can adequately support the implant. Most dental implants placed today are endosteal root form fixtures (similar to a man-made tooth root).
Q. Is dental implant surgery available for a single missing tooth?
A. In the case of a single missing tooth, dental implant surgery is used to place a dental implant in the jawbone area of the missing tooth. The dental implant will serve as a replacement for a tooth root and an individual crown. The total apparatus is referred to as a single-tooth implant crown. Once in place, the dental implant crown will look, feel, and function like a natural tooth. They are cleaned and flossed just like natural teeth, and best of all, they do not require any special tools to clean around them like bridges. Although a dental implant will not decay, they require impeccable oral hygiene.
Teeth Implants, Close Up and Natural - Is Implant Dentistry for You?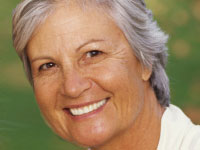 Teeth implants are a tooth replacement therapy offering natural-looking options for patients. Dental implants anchor artificial or prosthetic teeth into the jawbone. Their performance is nearly equal to natural teeth, providing a secure and comfortable fit, a natural appearance, and a big dose of confidence for people of all ages.
A tooth implant duplicates the tooth's structure. Dental implants are inserted into the jawbone is made of titanium. This metal does well in the body and rarely causes any reaction in patients. It is the same material that is used in knee and hip replacements.
The implant is cylindrical in shape, resembling a screw, and may even have a thread-like surface. They're uniquely designed with small holes at the outside surfaces for a very good reason. Like the roots of natural teeth, tooth implants stimulate bone growth. It even fools Mother Nature! Over time, the bone tissue actually grows into the small holes, securing the implant.
The abutment rests over the metal implant. It's a small piece of metal whose purpose is to connect the prosthesis to the tooth implant.
The prosthesis is the replacement tooth, a natural-looking crown or bridge (if there are multiple teeth missing). A prosthesis that's used to replace a complete set of teeth can be either fixed or removable. A removable prosthesis can be taken out for easy cleaning; a fixed one can only be removed by the dentist, but usually offers better reliability for chewing.
How Do These Different Teeth Implants Parts Work Together?
Since the tooth implant duplicates the tooth's structure, each part contributes to a natural-like functioning of the teeth. Whether replacing one or more teeth, the process of repair is the same. The teeth implants insertion procedure involves three main steps:
The first is the surgical insertion of the metal implants.
This is followed by a second surgery, about three to six months later, to insert the abutment.
The third step, usually two to four weeks later, is custom-making the prosthesis and attaching it to the abutment. There are typically several adjustments needed until the prosthesis is attached to the abutments.
Once the prosthesis comfortably fits, your future is secure. You'll enjoy comfort, confidence, and security in meeting the world and smiling in a whole new way with your new teeth implants.
By Brian J. Gray, DDS, MAGD, FICO