Your Tooth Implant Options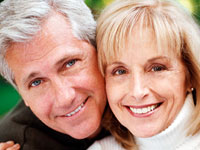 Dentistry has come a long way in the past 10 years - new cosmetic dentistry procedures, stronger dental materials, improved techniques all the way around.
Some of us, though, have not had the opportunity to take advantage of these breakthroughs until later in life. In fact, more than 42% of people over 65 have experienced significant tooth loss and must resort to dentures. Now there are options: dental implants.
Tooth replacement systems differ, but they are all intended to provide a better alternative to removable dentures. As any denture wearer will tell you, there's nothing more irritating than a slippery lower denture and the uncertainty it brings. An ill-fitting denture may cause accelerated bone loss, too, and aggravate oral decline. Teeth implants can bring back bite strength, stability and, most important, self-confidence.
The dental implant procedure is a three-stage process. First, an implant device is inserted into the upper or lower jawbone. Usually only local anesthesia is required, though a hospital stay may be advised. You will be given a temporary appliance so you can go on your way until the second stage.
After a healing period of some months, implant and bone have grown together. Posts are then attached to each tooth implant - these protrude through gum tissue. After a few weeks a fixed bridge or "overdenture," will be inserted. Then teeth will be attached to the posts. In some cases, an existing denture can be modified to secure over tooth implants comfortably.
The dental implant procedure takes some time and some money. You need sufficient viable bone in the jaw to support teeth implants, and a willingness to take good care of yourself during treatment. Finally, your expectations must be reasonable. Dental implants won't behave like natural teeth, but do promise better eating and speaking abilities and vitality.
Implant dentistry has been around for 25 years and the success stories are very impressive. In these, the best years of life, you owe yourself the gift of self-esteem. See your tooth implant dentist today!
Replace a Missing Tooth With a Tooth Implant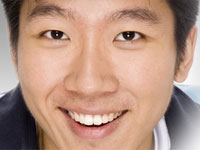 Compared to previous generations when tooth loss was common, modern dentistry has made it possible for people to keep their teeth healthy and attractive for their entire lives. But for people who have experienced tooth loss, a full or partial denture has been the answer.
But dentures have drawbacks. Food gets caught under the denture with resulting sore gums. Or a denture can loosen and cause embarrassment.
Today, dental implants can replace missing teeth. Although the concept of a tooth implant is not new, advances in technology have improved the treatment process and the longevity of implants.
Modern day dental implants are made of pure titanium and are surgically inserted in the jawbone. The tooth implant is covered with gum tissue and allowed to heal for three to six months. During this time, the titanium meshes with the bone (osseointegration), becoming part of the jawbone itself. After the gums are healed, the implants are uncovered and permanent tooth replacements are attached to the implants.
Dental implants can be used for single tooth replacements, support for a permanent bridge, or as attachments to anchor a full denture securely to the jaw.
If you think a tooth implant could help you or someone you know chew more comfortably, speak more clearly, or look better, call your dental office for more details.
By Laura Minsk, DMD