Learn how you can find the best implant dentistry in your area.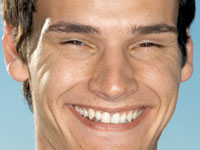 When the concept of dental implants and the mechanisms in which they work were introduced to mainstream dentistry during the late 1970's, the advent of dental implants opened up an excitingly new chapter in dentistry.
Through the 1980's, the news of the successful procedure of dental implant surgery spread at an explosive rate. It took approximately ten years of repeated long-term success for the procedure to gain validity.
By the early 1990's dentists readily accepted implant dentistry as an adequate and routine substitute for missing teeth in all areas of the mouth.
Restoring dental implants has undergone a paradigm shift from simply validating that dental implants work to recreating missing teeth with a chameleon-like effect. Even though implants can be restored with a very high degree of success, one of the most difficult and critical areas in the mouth to achieve great esthetic results is in the upper front jaw -- specifically when replacing a single upper central incisor tooth.
Single-tooth implant dentistry present dentists with unique challenges. When a single central incisor tooth is removed due to periodontal disease, tooth decay, trauma, or nerve failure, the body responds by shrinking the bone and gum tissue in place of the missing tooth. The body no longer needs the supporting bone structure; therefore, the bone is decreased and the gum tissue shrinks because of bone resorption.
In order to achieve a natural appearance to the final restoration, restorative dentists must attempt to replace what nature he as taken away. An unnatural appearance will be the result if the tooth is replaced without considering augmenting or "plumping up" the support structures. It would be like placing a great painting in the wrong frame, thus having a diminished outcome.
Achieving Esthetic Implant Dentistry with Crowns
Certain steps are necessary to achieve a successful outcome, especially in the most demanding implant cases, like replacing a single upper front tooth. Before the decision to place an implant is made, patients should know the sequential steps.
The process starts with a thorough exam. Clinically, dentists should examine the affected area and the entire mouth. A comprehensive exam of the bone and soft tissues must be performed along with taking specific X-rays and possibly detailed bone scans to identify any potential complications.
An analysis of your smile should also be performed. Do your teeth and gums show when you smile? Does your upper lip drape over your teeth? If the patient has a high lip line that shows teeth and gums, the need for bone and soft tissue grafting may be necessary.
By discussing several of the aspects necessary for implant treatment, you can be more aware of the possibilities, as well as the limitations, associated with implant dentistry. Armed with various soft and hard tissue grafting techniques, ceramic material advancements, and better dental implant components, dentists are able to satisfy even the most esthetically-minded patients.
By Benjamin O. Watkins, III, DDS
Replace a Missing Tooth With a Tooth Implant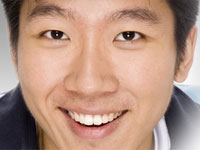 Compared to previous generations when tooth loss was common, modern dentistry has made it possible for people to keep their teeth healthy and attractive for their entire lives. But for people who have experienced tooth loss, a full or partial denture has been the answer.
But dentures have drawbacks. Food gets caught under the denture with resulting sore gums. Or a denture can loosen and cause embarrassment.
Today, dental implants can replace missing teeth. Although the concept of a tooth implant is not new, advances in technology have improved the treatment process and the longevity of implants.
Modern day dental implants are made of pure titanium and are surgically inserted in the jawbone. The tooth implant is covered with gum tissue and allowed to heal for three to six months. During this time, the titanium meshes with the bone (osseointegration), becoming part of the jawbone itself. After the gums are healed, the implants are uncovered and permanent tooth replacements are attached to the implants.
Dental implants can be used for single tooth replacements, support for a permanent bridge, or as attachments to anchor a full denture securely to the jaw.
If you think a tooth implant could help you or someone you know chew more comfortably, speak more clearly, or look better, call your dental office for more details.
By Laura Minsk, DMD