Learn how you can find the best implant dentistry in your area.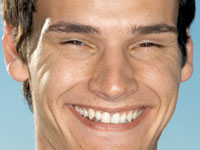 When the concept of dental implants and the mechanisms in which they work were introduced to mainstream dentistry during the late 1970's, the advent of dental implants opened up an excitingly new chapter in dentistry.
Through the 1980's, the news of the successful procedure of dental implant surgery spread at an explosive rate. It took approximately ten years of repeated long-term success for the procedure to gain validity.
By the early 1990's dentists readily accepted implant dentistry as an adequate and routine substitute for missing teeth in all areas of the mouth.
Restoring dental implants has undergone a paradigm shift from simply validating that dental implants work to recreating missing teeth with a chameleon-like effect. Even though implants can be restored with a very high degree of success, one of the most difficult and critical areas in the mouth to achieve great esthetic results is in the upper front jaw -- specifically when replacing a single upper central incisor tooth.
Single-tooth implant dentistry present dentists with unique challenges. When a single central incisor tooth is removed due to periodontal disease, tooth decay, trauma, or nerve failure, the body responds by shrinking the bone and gum tissue in place of the missing tooth. The body no longer needs the supporting bone structure; therefore, the bone is decreased and the gum tissue shrinks because of bone resorption.
In order to achieve a natural appearance to the final restoration, restorative dentists must attempt to replace what nature he as taken away. An unnatural appearance will be the result if the tooth is replaced without considering augmenting or "plumping up" the support structures. It would be like placing a great painting in the wrong frame, thus having a diminished outcome.
Achieving Esthetic Implant Dentistry with Crowns
Certain steps are necessary to achieve a successful outcome, especially in the most demanding implant cases, like replacing a single upper front tooth. Before the decision to place an implant is made, patients should know the sequential steps.
The process starts with a thorough exam. Clinically, dentists should examine the affected area and the entire mouth. A comprehensive exam of the bone and soft tissues must be performed along with taking specific X-rays and possibly detailed bone scans to identify any potential complications.
An analysis of your smile should also be performed. Do your teeth and gums show when you smile? Does your upper lip drape over your teeth? If the patient has a high lip line that shows teeth and gums, the need for bone and soft tissue grafting may be necessary.
By discussing several of the aspects necessary for implant treatment, you can be more aware of the possibilities, as well as the limitations, associated with implant dentistry. Armed with various soft and hard tissue grafting techniques, ceramic material advancements, and better dental implant components, dentists are able to satisfy even the most esthetically-minded patients.
By Benjamin O. Watkins, III, DDS
Dental Implants - An Alternative To Missing Teeth: Are You A Candidate?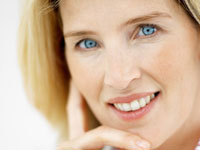 Are you missing a permanent tooth? Do you have gaps in your smile? Do you wear dentures and experience some of the following problems:
Slipping and clicking while talking?
Irritation and pain when you chew?
Fear of eating in public?
Feeling or looking older than your age?
You may be a candidate for dental implants, an alternative to missing teeth. Implant dentistry uses your jaw to hold a tooth replacement or bridge, rather than anchoring it to a healthy, neighboring tooth. The results are natural-looking teeth implants that look, feel and function as your own!
Healthy teeth are a gift we often take for granted. Losing one or more teeth impacts our smile, our confidence, and our enjoyment of our favorite foods. Dental implants are technology's way of taking us a step closer to a tooth replacement that feels secure and looks like our own.
What Is Involved in Getting Dental Implants?
Implants take several steps, but you will be able to continue your regular professional and social routines. Initially, the dentist will evaluate your mouth, teeth and jaw to determine whether dental implants are a good option for you.
For most patients, there are two surgical procedures involved. First, in the actual tooth implant placement, the implants are surgically inserted by an implant dentist into or atop the jawbone. Over the next three to six months, the implants are left alone, so that the anchor can bond to the bone, creating a strong foundation for the teeth to come.
Second, the new tooth or teeth are created and attached to the anchored dental implant. You now have teeth implants that might as well be your own: they look natural, are comfortable, and withstand the rigors of grinding and chewing. No one will know that your tooth has an artificial, man-made tooth implant root.
Dental Implants Are Not for Everyone
It's true. Your current dental health will influence whether you're a good candidate for a dental implants. Some medical conditions may interfere with normal healing, such as diabetes or heart problems. Finally, the supporting bone in your jaw must be healthy; if you clench your jaw or grind your teeth, the success rate for your dental implants will drop. Less success also is noted in smokers.
A complete examination and X-rays by your dentist will determine if you are a suitable candidate for dental implants. You must also commit to a strict schedule of flossing, brushing, rinsing, and check-ups to keep them healthy.
Proven Technology for a New Quality of Life
Technology gets the credit for this exciting alternative to missing teeth, dentures and bridges. Researchers noticed in the 1950s that titanium and some other materials formed a strong bond to the bone. That gave rise to the use of dental implants. Today, there are patients who have had dental implants for more than 25 years. Hundreds of thousands of tooth implants have been inserted, boasting more than a 90% success rate! Metal joint implants used in other parts of the body were actually developed from the success of dental implants.
It has been around for decades and people know it works. Schedule an evaluation with your dentist to determine if dental implants are right for you. Discover how they can improve your quality of life and put a genuine smile on your face.
By Brian J. Gray, DDS, MAGD, FICO