Teeth Implants, Close Up and Natural - Is Implant Dentistry for You?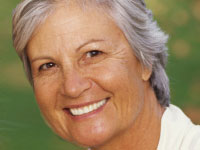 Teeth implants are a tooth replacement therapy offering natural-looking options for patients. Dental implants anchor artificial or prosthetic teeth into the jawbone. Their performance is nearly equal to natural teeth, providing a secure and comfortable fit, a natural appearance, and a big dose of confidence for people of all ages.
A tooth implant duplicates the tooth's structure. Dental implants are inserted into the jawbone is made of titanium. This metal does well in the body and rarely causes any reaction in patients. It is the same material that is used in knee and hip replacements.
The implant is cylindrical in shape, resembling a screw, and may even have a thread-like surface. They're uniquely designed with small holes at the outside surfaces for a very good reason. Like the roots of natural teeth, tooth implants stimulate bone growth. It even fools Mother Nature! Over time, the bone tissue actually grows into the small holes, securing the implant.
The abutment rests over the metal implant. It's a small piece of metal whose purpose is to connect the prosthesis to the tooth implant.
The prosthesis is the replacement tooth, a natural-looking crown or bridge (if there are multiple teeth missing). A prosthesis that's used to replace a complete set of teeth can be either fixed or removable. A removable prosthesis can be taken out for easy cleaning; a fixed one can only be removed by the dentist, but usually offers better reliability for chewing.
How Do These Different Teeth Implants Parts Work Together?
Since the tooth implant duplicates the tooth's structure, each part contributes to a natural-like functioning of the teeth. Whether replacing one or more teeth, the process of repair is the same. The teeth implants insertion procedure involves three main steps:
The first is the surgical insertion of the metal implants.
This is followed by a second surgery, about three to six months later, to insert the abutment.
The third step, usually two to four weeks later, is custom-making the prosthesis and attaching it to the abutment. There are typically several adjustments needed until the prosthesis is attached to the abutments.
Once the prosthesis comfortably fits, your future is secure. You'll enjoy comfort, confidence, and security in meeting the world and smiling in a whole new way with your new teeth implants.
By Brian J. Gray, DDS, MAGD, FICO
A Simple Description of a Dental Implant Procedure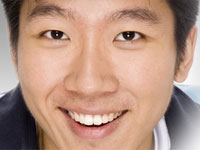 Permanent replacements that feel like original teeth
If you have a missing tooth or have lost teeth, you're far from alone. In fact, you're one of over 100 million North Americans with a similar problem. Some lack but a single tooth; others are completely edentulous (without teeth).
Dentures are generally the first thing considered in connection with tooth loss. However, over time a jawbone lacking natural teeth will shrink. Dentures begin to slide, irritating gums. After a while, patients either cannot or will not continue wearing dentures. Their quality of life diminishes as they go on to become "oral invalids."
For many patients, dental implants can be almost the same as having their natural teeth back again. That's because instead of being a removable device inside the mouth, teeth implants are bridges that are permanently anchored into the jaw itself. The dental implant procedure is surgical, yes, but usually performed under local anesthesia.
The key to a successful tooth replacement is something we call osseo-integration, or the meshing together of implant and bone. Good candidates for tooth implants need jawbone ridges that are in good shape and healthy oral tissues. Then, when the implant device is inserted, a chemical and mechanical bond is formed. The jawbone actually grows into the tooth implant.
That's a highly simplified discussion of an extremely complex and technical procedure. For more details on dental implantology, contact your dental implant dentist. Or use our search form above to find one.