Teeth Implants, Close Up and Natural - Is Implant Dentistry for You?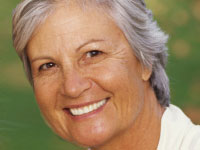 Teeth implants are a tooth replacement therapy offering natural-looking options for patients. Dental implants anchor artificial or prosthetic teeth into the jawbone. Their performance is nearly equal to natural teeth, providing a secure and comfortable fit, a natural appearance, and a big dose of confidence for people of all ages.
A tooth implant duplicates the tooth's structure. Dental implants are inserted into the jawbone is made of titanium. This metal does well in the body and rarely causes any reaction in patients. It is the same material that is used in knee and hip replacements.
The implant is cylindrical in shape, resembling a screw, and may even have a thread-like surface. They're uniquely designed with small holes at the outside surfaces for a very good reason. Like the roots of natural teeth, tooth implants stimulate bone growth. It even fools Mother Nature! Over time, the bone tissue actually grows into the small holes, securing the implant.
The abutment rests over the metal implant. It's a small piece of metal whose purpose is to connect the prosthesis to the tooth implant.
The prosthesis is the replacement tooth, a natural-looking crown or bridge (if there are multiple teeth missing). A prosthesis that's used to replace a complete set of teeth can be either fixed or removable. A removable prosthesis can be taken out for easy cleaning; a fixed one can only be removed by the dentist, but usually offers better reliability for chewing.
How Do These Different Teeth Implants Parts Work Together?
Since the tooth implant duplicates the tooth's structure, each part contributes to a natural-like functioning of the teeth. Whether replacing one or more teeth, the process of repair is the same. The teeth implants insertion procedure involves three main steps:
The first is the surgical insertion of the metal implants.
This is followed by a second surgery, about three to six months later, to insert the abutment.
The third step, usually two to four weeks later, is custom-making the prosthesis and attaching it to the abutment. There are typically several adjustments needed until the prosthesis is attached to the abutments.
Once the prosthesis comfortably fits, your future is secure. You'll enjoy comfort, confidence, and security in meeting the world and smiling in a whole new way with your new teeth implants.
By Brian J. Gray, DDS, MAGD, FICO
Who To See When Thinking About Getting Dental Implants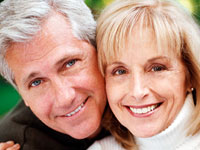 If dental implants are what you need to replace your missing teeth, you should select an implant dentist with in-depth knowledge of, and prior experience with all aspects of the treatment. It is important to know that treatment with tooth implants consists of two components: a surgical phase and a restorative phase.
Traditionally, a dental surgeon, like an oral surgeon or a periodontist, performs the surgical component. A general dentist, or prosthodontist and laboratory technician, performs the restorative component.
As dental implant dentistry has become more sophisticated, the restorative dentist, at times, also has become the one that places the dental implants. However, each clinician involved in implant treatment must be aware that the type of final restoration a patient wants dictates the position, size, and number of the tooth implants within the jaws.
What Types of Dental Implants Are There?
For each unique missing tooth situation, there is an equally unique way to use dental implants for tooth replacement. However, all of the treatments can be placed in two categories: removable or fixed prostheses.
Implant dentists use removable implant dentures when a patient is missing all of their teeth. Fewer tooth implants are necessary when used in conjunction with a removable denture.
Conversely, more dental implants are necessary when used in conjunction with a fixed bridge. Fixed bridges feel most like your natural teeth and are usually more desirable than removable dentures.
Mastering new surgical and restorative techniques as they are developed is the mark of an excellent tooth implant dentist as well as overall implant dentistry. An implant dentist's meticulous attention to fine detail conveys a feeling of confidence to the patient. The dentist should be committed to restoring full function to the missing teeth as well as recreating natural-looking teeth. These are the qualities a patient should look for in an implant dentist.
By Benjamin O. Watkins, III, DDS